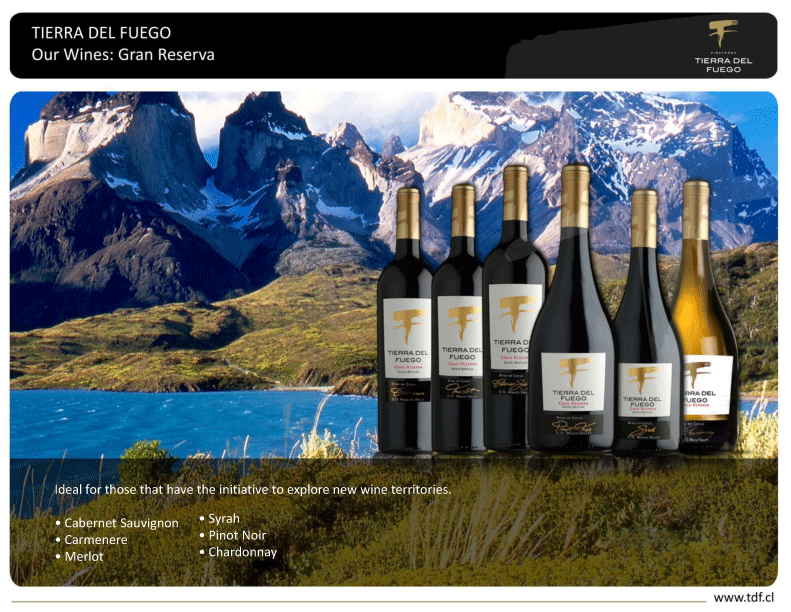 HISTORY AND "FAMILY TRADITION"
"The tradition of the Cremaschi Furlotti Winery starts in Italy with my great-grandfather", indicates Pablo Cremaschi Furlotti, President of the company.  "Later on, my grandfather migrated to Argentina where he founded Viña Furlotti, the fourth largest winery of the country with over 3.700 hectares of vineyards".
Pablo and his father continued the 120 years of winemaking tradition in Loncomilla – Chile, a terroir that provides pure natural fruit, which united to the great winemaking knowledge and experience guarantees extraordinary quality and distinctive style in each wine. The family tradition and Italian heritage continues today with the fourth generation of the Cremaschi family working the Peñasco Vineyards.
Tierra del Fuego wines are from the Maule Valley in Chile-this winery has a direct connection with New Hampshire as it has supported NH trade missions to Chile
Tierra del Fuego Sauvignon Blanc A fresh, crisp, lively wine, with green fruit aromas and delicate fruit notes. No oak. Excellent sipping wine before a meal or by itself.
NH Code: 42883
Tierra del Fuego Chardonnay Reserva; this 2008 wine is drinking quite well now , as it continues to age.  The barrel fermentation of 50% in French oak for 6 months, together with its marriage of 50% in stainless steel, gives this wines a subtle balance of flavors and aromas.
NH Code: 42864
Tierra del Fuego Pinot Noir Reserva, Great taste, excellent value.  Floral scents with sweet of raspberry notes and soft touches of burnt wood.  Smooth and elegant in its finish.  Aged 8 months in French oak and 6 months in the bottle, before it is released.
NH Code: 42866
Tierra del Fuego Merlot Reserva, Penetrating aromas of berries, black cherries and tea leaves with flowery notes.  Rounded and well balanced, with hints of nuts and dried plums. 12 months in French Oak.
NH Code: 42865
Tierra del Fuego Carmenère Reserva, A great representation of this great varietal, also known as the lost Bordeaux, this grape found its home in Chile where it is now its national grape. Intense dark purple color.  Intense aromas of red fruits-plums, with notes spices that add to its complexity, elegant touches of burnt wood.  Aged 12 months in French Oak.
NH Code: 42863
Tierra del Fuego Syrah Reserva, This wine has been doing quite well, having recently been the winner at a blind competition at a respected NH wine store.  Its intense dark red purple color, combines with elegant aromas of wild berries.  Hints of leather and spices, together with sweet and strong tannins in the mouth. 12 months in French Oak.
NH Code: 42867
Tierra del Fuego Cabernet Sauvignon Reserva, Intense ruby color, aromas of blackberry and plums; wood expressed coffee, chocolate and vanilla.  Mild tannins heightened by the harmony of wood and fruit, which brings a pleasant finish. 12 months in French Oak.
NH Code: 42862